Yin Yoga Teacher Training
By request, I have put together a modular program that will allow people with busy schedules to study yin yoga in a more flexible way. These three modules can be taken at any time in any order, and certificate will be given once students complete all three modules, and a public teaching.
Exploring the depths of this profound practice, we will cover:
A Wide Variety of yin poses and sequences
Anatomy of the subtle body, meridians, and chakra
Anatomy of the yin tissues (ligaments, tendons, and fascia)
The benefits of yin yoga on our physical organs and anatomy
The PRACTICE of energetics (prana vidya). HOW to use your prana, HOW to access your meridians and other aspects of your energetic body
The use of yin yoga as a doorway to mindfulness and meditation
Tantric meditation practices for concentration, mindfulness, and lovingkindness
Ayurvedic applications and benefits of yin practice
Taoist flow tecniques to harmonize yin and yang
Yin Yoga Teacher Training Module 1
Meridians, Taoism, and Anatomy
This module of Yin Yoga Teacher Training will cover the anatomy of yin yoga, the basics of taoist philosophy, and two yin yoga sequences. As we work with the sequences, students will learn how to guide students safely in and out of each pose, and modifications for the poses. The philosophy of taoist philosophy will give us insight into five element theory, and the meridian system that guides much of our sequencing.
Yin Yoga Teacher Training Module 2
Prana, Chakras, and Tantra
Yin yoga lends itself well to inward focus and energetic cultivation. In this module, we will cover pranayama, chakra awareness, and traditional tantric meditation practices that give a depth and transformational quality to our practice. Students will learn two sequences designed to open and balance our chakras and pranic system. An overview of ayurvedic yoga will be offered this weekend as well.
Yin Yoga Training Module 3
Meridians part 2, Buddhist Mindfulness, and Creative Sequencing
Cultivating concentration and mindfulness is crucial to have a grounded and productive yin yoga practice. We will go over age old techniques designed to ground the mind in the moment, and allow for greater awareness of both the self, and the activity of the asana. We will continue our study of meridians, and learn two new sequences based on that. We will also discuss how to put together our own creative sequences that are both safe and effective.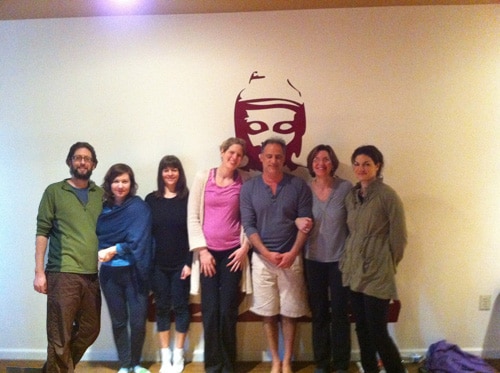 Yin Yoga Teacher Training Graduates have gone on to:
Offer yin yoga fundraisers for local food co-ops
Write articles about the benefits of yin yoga in integrative mental health treatment
Run their own yoga studios
Heal chronic & life threatening illnesses with their ability to create effective change
Teach asana practice to their meditation communities
Integrate yoga into their healing & bodywork practice
Each class is $295, or pay for all three of these classes before 2/15, and pay only $750
Module 1: 3/1-3
Module 2: 5/17-19
Module 3: 6/21-23
Single Class, $295
All Three 2013 Modules, $750 (only good for the above dates)
Reading
Insight Yoga by Sarah Powers
Yinsights by Bernie Clark
Chakras and their Archetypes by Ambika Wauters
The Radiance Sutras by Lorin Roche
---